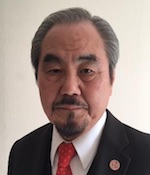 Dr. Masayuki Hisataka holds the position of Chancellor & Professor of Leadership at of Karatedo University. He also holds the position of Professor of Leadership at Monarch Business School Switerland. He has held teaching positions at McGill University, Loyola College and Cegep St. Jerome in Canada and has lectured at Columbia University, New York State University as well as at West Point Military Academy in the USA. Dr. Hisataka holds a Doctor of Science from Monarch Business School Switzerland and a Bachelor of Commerce from Nihon University in Japan.
Dr. Hisataka has taught thousands of students during his career in North America, Europe, Japan and elsewhere. He is presently the Headmaster of Shorinjiryu Kenkokan Karatedo in Japan. He is also the Founder and Chairman of both the World Koshiki Karatedo Federation and the All Japan Koshiki Karatedo Federation. He is also an accomplished sportsman having won the All Japan Open Karatedo Championships in 1961 and 1962 and won the Shorinjiryu Kenkokan Karatedo Championships from 1958 through 1962. Subsequently, he was asked by the Japanese government to represent Japan at the 1964 and 1967 World's Fair held respectively in New York, USA and Montreal, Canada.
Dr. Hisataka is also a thought leader and the inventor of the Anzen Bogu protective gear system known as Supersafe which enables full-contact karate practitioners to exercise their skill in safety and greater realism. He is also an accomplished academic having published three separate books and other manuscripts on the martial arts that are considered as leading texts. He has toured Europe lecturing and demonstrating his teachings as part of the first All Japan Budo delegation. In 1978, Dr. Hisataka introduced Karatedo to Russia, then the Soviet Union, for the first time. He is also credited with introducing Karatedo to China for the first time after World War Two.
Academic Positions Held
Professor of Leadership, Monarch Business School Switzerland
Chancellor, Karatedo University, Japan & Switzerland
Academic Positions Held In The Past
Professor, McGill University, Montreal, Canada
Professor, Loyola College, Montreal, Canada
Professor, CEGEP St. Jerome, St. Jerome, Canada
Lecturer, Columbia University, USA
Lecturer, New York State University, USA
Lecturer, West Point Military Academy, USA
Academic Credentials
Doctor of Science, Monarch Business School Switzerland
Bachelor of Commerce, Nihon University, Japan
Medical Trainer of Bones ting, Yotsuya technical College , Japan
Budo Credentials
Headmaster, 10th Dan, Shorinjiryu Kenkokan Karatedo
Founder & Chairman, World Koshiki Karatedo Federation
Founder & Chairman, All Japan Koshiki Karate-do Federation
Two Time Undefeated All-Japan Open Champion 1961 & 1962
Five Time Undefeated Champion Shorinjiryu Kenkokan Karatedo 1958 to 1962
Awards And Honors
First official Japanese representative invited after WWII by China at Beijing University, Shorin Temple ,Shanhai Wushu Technical College (1985)
Creator, Super Safe Karate-do Protective Equipment (1979-80)
Deviser, Koshiki Contact Karate-do Competition & Contest Rules (1979-80)
Member, All Japan BUDO Delegation to the European Countries (1978)
First Time Officially Introduce Karate-do to USSR (1978)
Established World Koshiki Karate-do Federation (1978)
Honorary Chief of Canadian Indians
Honorary "Baron" of the Russian Royal Family
Honorary citizen of Baltimore, Maryland, USA
Honorary citizen of Tbilisi, Georgia
Main Academic Interests
Leadership
Teaching Philosophy
Spirituality In Management
Personal Psychology
Excellence In Training
Associations And Memberships
Member, ACBSP-Accreditation Council For Business Schools & Programs, USA
Languages
Books
Hisataka, M. "Essential Shorinjiryu Karatedo" Tuttle Publishing, 1st Edition December, 2011 ASIN B006T3IILK, pp 224.
Hisataka, M., Donivan W., Mashino D., "Le Karate Koshiki", ISBN:978-2761908573
Hisataka, M. "Scientific Karatedo:Spiritual Development of Individuality in Mind and Body" Japan Pubns; First Edition edition (August 1976), ISBN 978-0870403620.